Artist
David Echt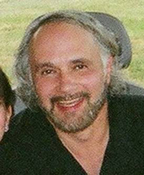 David Echt was just in his early twenties he began making a living as an Airbrush Artist. He sold his works at art shows, festivals and small galleries throughout California. At that time David's work was pastoral always exciting the canvas with soft fades of colors and foregrounds taken from of nature scenes.
Computers and Art
During the eighties David caught the computer bug and moved to the east coast. He still found himself drawn to the world of art and learned to use this new technology for painting.
Early Innovative Annimated Presentation
In the late eighties, while working at New York Life, he was asked if he could create a simple set of drawings on the computer featuring their End User Computing Department. His boss told him that all he expected were some simple line-drawings. Two days later David delivered a colorful animated presentation with characters in a humorous situation. The Leadership of New York Life was so impressed that they placed it on a monitor that plays while entering the cafeteria. It's still in use today.
Computer Drawings
David also created a series of Asian inspired computer drawings based on the hexagrams of the Iching. This was for a screen saver that he created in the early nineties.
Author
After leaving a successful career working on Wall Street David moved to Boulder Colorado where wrote his first book, "Messenger from the Summer of Love". It received several outstanding published reviews and it is currently being used for a sixties course taught at The University of Nevada.
Explosive New Technique
Now he has come to Austin Texas and created a style of art that incorporates an explosive and bold new technique that has never been done before.
Creativity
David wanted to find something to express that spark of creativity. There is an inexplicable magic to it. We really can't say where creativity arises. We can only hope to recognize it when we see it.