Artist
Janus Lee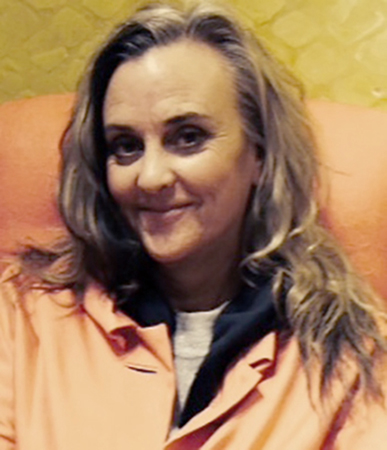 Janus Lee grew up following her sign-painting father around, back when billboards were still created as large paintings of giant hamburgers & effervescent glasses of beer, all done from scaffolding rigged high above the ground on swing stages. After these early close-up art encounters, Janus opted for art projects closer to the ground, & is now working in a range of mediums in her south Austin studio.
Janus garnered drawing & painting awards in regional exhibitions while in High School & college. Prior to completing her BA degree in Art & Design in 1985, Janus taught portraiture & other community education classes, as well as doing free-lance art, photography, & advertising design for several publications. With iridescent silk, Janus also designed an installation art piece in conjunction with 'The Dinner Party' project. As of 2015 this International Honor Quilt piece is permanently installed: http://digital.library.louisville.edu/cdm/search/collection/ihq/searchterm/Lee/order/nosort
After college graduation Janus wore several hats in a marketing department of a large medical center, doing both P.R. & medical photography, concept art, & production of a variety of hospital publications. More creative work followed in various venues for over a decade: as a designer, marketing director, yellow-page artist, free-lance illustrator, & creative director.
The early 1990's found Janus exploring calligraphy & exhibiting with the Sun Coast Society of Scribes in St. Petersburg, FL. With oil & pigment, she was also staining her designs into wood grain, resulting in commissions for furniture. At this time, Janus also worked for the Children's Museum of Tampa, where she helped to develop & docent the 'Faces of the Americas' exhibit.
After earning a Masters degree in Oriental Medicine & practicing Asian medicine for over a decade, Janus returned to art. In 2014, she furthered her art education at St. Edward's University, primarily studying Art History, Watercolor, and Sequential Art - the latter for her upcoming graphic novel, 'The Man Who Made War on Chicago'.