Artist
Jenn Niebuhr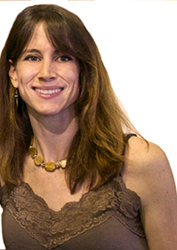 Early Influences
Growing up in the beautiful woods of Northern New Jersey, Jenn was initially influenced by her Grandmother, a painter and teacher of many creative and artistic mediums. "One of my happiest memories is the smell of oil paint in Grandma's 'Wreck Room' " (short for recreation room).
Although she favored writing short stories and descriptive poetry as a youth, she later turned her focus to the visual arts.
Expressing Emotions through Art
Jenn's first commissioned sale, an abstract album cover, was for a well-known Dallas musician. This initial job ignited a lifelong passion that had been cultivating beneath the surface for many years. Abstract and representational color became the perfect way to express powerful emotion through harnessing creative energy.
Current Work
Her work can best be described as an experiential expression of emotive and poetic imagination, rich with color and ladened with texture. Each work holds an element of surprise; whether a subtle color shift, a soft hue emerging from the background, or a sudden blaze of paint.
Exhibits and Commissions
Jennifer resides in Austin, Texas. She has exhibited in Austin and Dallas and has painted commissioned pieces for clients across Texas.