Artist
Jo Petersen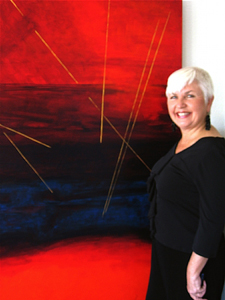 Early Creativity
An active, abstract expressionist artist, Jo Petersen has pursued her love of art for five decades. While working toward an art major in the mid 1960's, she became fascinated with the spontaneity and freedom of the works of Pablo Picasso. His fearless creativity encouraged her to explore the unfiltered imagination.
Influences through Teaching
Jo's painting process was strongly influenced by the creativity classes she taught to over three hundred students at a women's drug rehabilitation center from 1997 through 2001. Her goal was to unleash her student's creativity and enable an atmosphere of fun and excitement with a weekly assignment that was enjoyable while thought-provoking.
From her students, Jo learned that each of us brings to the easel a personal, symbolic, visual language from our present thoughts and future desires, as well as from past experiences, that can be turned into spontaneous, creative art. The memory of these meaningful classes continues to confirm her faith that an idea can be visually conveyed through the spontaneous, creative process of an unbridled imagination.
Current Work
Jo works in her studio in the Texas Hill Country and is associated with the prolific Bunkhouse Gang art group located in Cypress Mill. She has studied with exceptional art instructors at The Bunkhouse at Wenmohs Ranch, an artist retreat and school.
Each painting takes this artist on a spontaneous adventure conveying her ideas, concepts, emotions, or just frozen moments in time. Jo Petersen has a flair for abstraction and the drama of stark design
Artist Statement
The urge to create the unpredictable through experimentation is irresistible. I paint for the sheer excitement of the process. My art is immediately recognizable as a bold expression in the abstract. Each piece begins with an idea, concept, or feeling, but as I run with whatever pops into my head, my paintings automatically flow into pure abstract design. Working at a fast pace keeps me from editing what I paint. Unfiltered expression of imagination allows me intuitive freedom, rapidly transports me into the creative, nonverbal zone, and keeps me there longer.
I work in quick drying acrylics to help this spontaneous process. Right before I'm finished, I analyze the painting repeatedly for good design, and adjust for balance without disturbing the fluidity of the subconscious choices.