Artist
K J Kelsheimer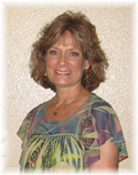 Kathy Kelsheimer is a representational and impressionist artist whose passions for the beauty around her are very evident in her sensitivity to the emotions and detail portrayed in her paintings. Using pastels, oils or mixed media you are drawn into her paintings with an awareness of depth the viewer can actually feel.
Inspiration
Throughout her travels or even in her own backyard, interesting people, scenes, flowers or wildlife inspire her. Capturing a Jamaican as he intently sells his wares or the beautiful flowers and gardens of Bermuda. With her unique introspect she can capture the very essence of God's creations around her.
Definition of Exceptional Work of Art
I believe when you can evoke someone into feeling the emotion of a scene, to want to touch and smell a flower or wonder just what that animal or person is thinking or where they have been, you have created an exceptional work of art. Whether teaching a workshop or painting on your own, you must paint what you feel.
Exhibits
Kathy has been represented in Sante Fe and Taos, New Mexico, also in Midland, New Braunfels and Lubbock, Texas. Her work has sold internationally and is part of corporate and private collections. She has won numerous awards throughout the state, including Best of Show. Kathy also expresses her artistic ideas with the use of stained and leaded glass.