Artist
Nancy Junkin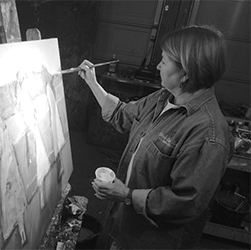 Business Background
After returning to Oklahoma to reside in Oklahoma City, Nancy worked for an investment consulting firm. During this period, she began taking courses toward her MFA at University of Central Oklahoma.

Introduction to Art
She then had an opportunity to work with a designer in an interior design firm in Oklahoma City, enabling her to further develop her eye for color and design.
After reducing her "work" hours, she began taking lessons with some local artists, including Dennis Johnson and Bert Seabourn.
Current Life
She is now retired and has the time to paint and travel.
With a cabin located in the enchanted circle of northern New Mexico, she has the opportunity to continue enjoying the culture and surroundings of the fascinating and exotic Southwest.