Artist
Ping Irvin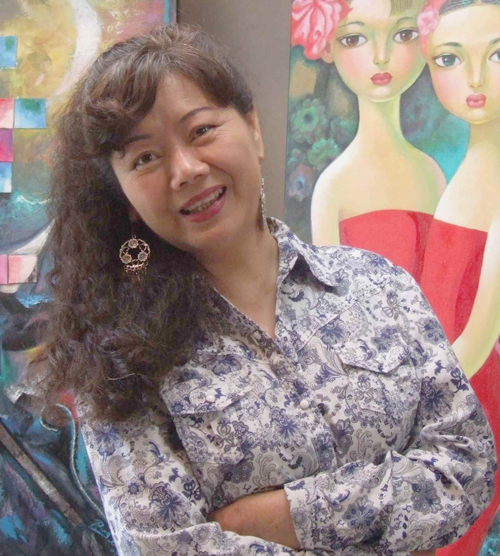 Fine artist Ping Irvin has painted all her life. She graduated from Yunnan Art College in 1982 and was given professorship in 2003. She has sold work to collectors all over the world: Germany, Thailand, China, Japan, Mexico and the United States.
She is strongly influenced by Europe, echoing Paul Klee, Henri Rousseau, and Botticelli. Frida Kahlo and Rufino Tamayo of Mexico are also referenced. Her cubist paintings reflect her take on painters Braque and Picasso. Her series of portraits of girls seem to live and glow like a Rembrandt.
Ping offers fine original paintings done in oil and/or acrylic.
She now lives in Austin Texas with husband and fellow artist, Craig Irvin.
I was born in Kunming in Yunnan China, a southwestern province. Kunming hosted the famous "Flying Tigers"--the American volunteer aviators who defended Kunming and all of Southern China from the Japanese during World War II. Some may remember the movie in which John Wayne plays Chennault, the brilliant retired U.S. Army Airman who commanded this group. Kunming was the special beneficiary of their heroism and by them the Japanese were halted permanently in their attempt to invade China from Burma. Of course, after Mao came to power, this story was not told in Chinese history. But we knew it very well.
As a small child, about three or four years old, I would sit at the dinner table. Instead of eating my food, I held a chopstick up to one eye, and peered down it moving it slightly to trace the features of my brothers or sisters. Even at that age I was learning how to draw faces. A little older, and I would use a black crayon to draw. I remember using some water colors also. While in kindergarten, I drew small animals and flowers. In elementary school, I began to design a school magazine. The teacher would give me colored chalks and let me draw on a huge blackboard to fill it up. I would draw flowers, and animals, and sometimes a large portrait of the current "hero". I began to dream of becoming a true artist.
But my dream was shattered when I was 12 years old and the Cultural Revolution began in China. Schools were closed for ten years; mayhem ruled. I still painted on my own. But communism had made my family poor. My father, who had been a banker in India, was labeled a capitalist and sent to a countryside work camp. We couldn't even afford stretcher bars to stretch the canvas over. I put a canvas on top of a bench, stretching it there. My mother managed to get enough money to purchase 5 oil colors: red, yellow, blue, white and black. I painted my first oil painting that way--a still life.
My older brother was able to borrow books, some of which had photos of the classical masterworks. The print quality was poor, but I could see enough to learn. I would paint my older sisters portrait making her elegant and princess-like, in the classical style. Occasionally there was an opportunity to show my paintings to some people who loved art. They seemed genuinely impressed and they gave me encouragement. Thus I began to weave my dream again.
At that time, there were no small art galleries in China. If you wanted to make a living as an artist, you had to work for the government. I applied with a variety of departments, but only people born in families who supported the revolution were eligible for jobs.
Because of my father's background, we were labeled capitalists. So they couldn't consider me. My life was my art. Without it I was very depressed and my pool of hope was small and shallow. I ended up going to a factory to work, thinking I would have to spend my life there. (In China's system, once you begin in a field, it is almost impossible to change jobs later.)
But when a door is closed to you, God can open another.
The Yunnan local government was organizing several art exhibitions every year to promote national policy. They gave the artist a theme and the artist created work reflecting that theme. Perhaps, because I had interviewed with them, I was on their list of artists and I was invited to participate. This made it possible for me to take several months off from my factory job each year and paint. I hated the government control and the propaganda themes, but at least I could paint. Pretty soon my paintings received recognition and awards, and they were featured on magazine covers. And even at the factory, I could paint posters, signs or a giant mural.
Finally in 1977, the government re-opened the Yunnan Art College. It had been closed for ten years. Along with many others, I applied. There was a strict examination which I passed and was admitted. Once there, I painted portraits and anatomical studies and a lot of landscapes. I was excited to take field trips to the mountains and spent long hours painting in small villages. There were people there whose ethnicity was not Chinese. They had simple and colorful lifestyles. Later I would return to these villages and take numerous photographs.
In 1982, I graduated from Yunnan Art College and my painting titled "Return" won the National Fine Arts Exhibition of Excellence Award. But after graduation, there was no outlet for fine art. There were no private galleries in China and very little opportunity to show. I spent many years working at a Television Station as a Reporter on Arts and Culture, still painting at night. I also was given a professorship at the college, and taught there for a while.
It was about this time when I saw a horse suffering under the weight of a heavy load on a slippery road. He slipped and the driver whipped him and shouted at him. I remember the look of terror in the horses eyes; and I resolved to use the horse in my paintings as an expression of deep emotion. My family name is Ma, and means horse in Chinese.
Little by little, I began to be able to show outside China in Thailand. Collectors from Thailand, Germany, Japan and Switzerland bought my work. Occasionally even now, I'll get an email from someone who has purchased one of my older paintings, desiring to know the current value. I was also published in the "Dictionary of Professional Chinese Artists", and "Who's Who in Modern Art in China".
I spoke about doors opening before. It was time for another one to open, one of the biggest.
I had sent some digital photographs of my work to a website in Australia for publication on the internet. I had not used the internet for this before. I don't know if I expected any response from it, and in fact, there was very little. Two people emailed me. One man who emailed me was Craig Irvin, an artist in Texas, who had seen my work and wanted to complement me on it. He loved the work of Marc Chagall, and thought my painting reminded him of that artist, as well as Frida Kahlo and Diego Rivera because of their color. The email took some time to get to me, since the website mailed it via ground after they received it.
Perhaps three weeks later, I responded, thanking him for his comments. I replied via email directly, so there was no delay. And he responded back again. This went on sporadically for weeks. My replies were in very poor English, sometimes aided by a translation program. But my Texas artist friend was nice, and would send me a digital photo of one of his new paintings for my critique. Finally, over the next months it came out that he was single, and at that time, so was I.
To make a long story short, he ended up coming to China to meet with me for a few days and after a tearful goodbye, he returned to the U.S. After an arduous application process lasting months, I was able to get a visa and come to Texas as his fiancé in 2005. Within weeks we were married and began our lives as artists together. Soon I began to show my work in galleries and shows around the South and Southwest U.S. My husband Craig also shows with me at times. Our styles are different but we are linked through our tastes and use of color. We paint together in a small studio next to our house. In 2010, I became a U.S. Citizen, and am looking forward to showing in new venues and galleries everywhere.