Artist
Tom Neal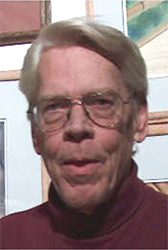 Tom Neal has been in the Art business for over 20 Years.
Early Talent for Art
Tom was born and raised in Lincoln, Nebraska.
Tom was identified early in life for his talents and was invited with 40 other students after a competitive search in the Lincoln, Nebraska elementary schools to participate in summer classes taught by instructors at the University of Nebraska.
He is a graduate of Pius X High School, Lincoln and attended college at Peru State, Nebraska.
Art Medias and Style
Tom specializes in acrylics, pastels and watercolors.
His paintings cover a wide variety of subjects, as you can see, heavily influenced by Georgia O'keefe and Albrecht Duer.
Tom has been in numerous juried shows. He sells most of his pieces at art fairs and Galleries.
Spiritual Nature of Art
He started art work seriously,as an outlet, which helped him get through life changes.
He looks at art as a creative spiritual experience, where the artist is a part of the process of a higher Power. God!
Military and Criminal Justice career
Tom is retired from the US Army Military Police and over 35 years in the Criminal Justice System, to include Captain with the Colorado Correction System.
He retired in Colorado Springs in 1986 and eventually moved to Canon City, Colorado.
Colorado Years
He resided a total of 24 years in Colorado, where he spent much of his time in the Mountains, observing wild life and trees.
Many of his works depict what he saw in the mountains, especially Aspens.
Move to Austin
He recently moved to Austin from Omaha in February, 2011.